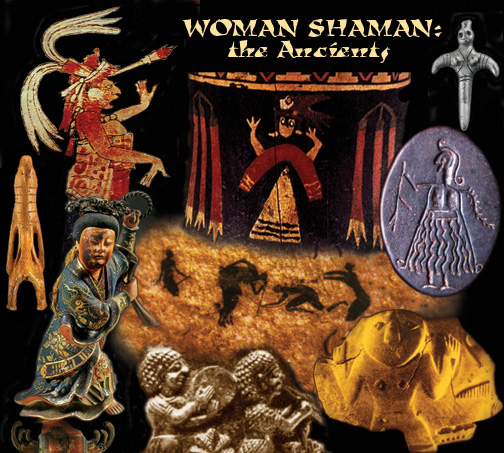 This video by Max Dashú reveals the rich cultural record of medicine women, seers, oracles, healers, trance-dancers, shapeshifters, and dreamers—on a global scale. They told us that female spiritual leaders didn't exist, or were rare exceptions, or insignificant; that Indigenous medicine ways were superstitious and backward. All lies. To experience the beauty, power and wisdom of these spiritual legacies is medicine for the spirit, especially for the women who have been pushed down, marginalized, denied, and silenced in the name of religion. These most ancient spiritual ways have immense value—however far back, or deep, we have to go to recover this human birthright. View the trailer.
Disc One (90 minutes):

Invocation
Sacred Dance
Flight
Shapeshifters
Serpents
Animal Spirits
Shamanic Goddesses
Healers
Diviners

Disc Two (90 minutes):

Oldest Shamans
Drums
Rattles
Entheogens
Staffs
Fans / Herb Bundles
Crowns / Headdresses
Mirrors
Commentary
You'll see rare images of women's ceremonies in rock art of the Sahara, southern Africa, Europe, and North America. Tiger women in India and China. Ecstatic dancers in Chinese bronzes and Cretan seals. Ceramic sculptures of female shamans in Mexico, Ecuador, Peru, and Japan. Shamanic crowns of Afghanistan and Korea and the Altai. Nordic völur, and shamanic valences of the witch in Europe. Testimony of Mexican codices, Quechua painting, and Calchakí bronzes. Sacred staffs, rattles, fans, and mirrors. Visions, oracular chambers, casting of lots, and laying on of hands.

Music by: Flute by Cynth; Yolanda Martinez; Layne Redmond; Luisah Teish; Anawak; Tiokasin Ghosthorse; Mary Sherhart; Citlalmina Macuill Tochtli; Maryam Akhondy; Laney Goodman; Anne Roos; Maria Kvilhaug; Brenni Gill; Viviana Guzman; Suzanne Teng; Solace; Kitka; Laura Inserra; David Berkman; Emmalee Crane; Arjun Sen; Ensemble Pachamama; Steve Gorn; Kevin MacLeod; Mark Preston; Terry Devine-King; Jiang Li; Ori Vidislavki; Tuva Khoomei; Stu Fergie; Macha Curran; Andy Potterton; Jennifer Newell, Paul Carlson, and Andy Newell; and including twenty archival recordings of global music, courtesy of Smithsonian-Folkways.
Woman Shaman: the Ancients © 2013 Max Dashu

View another trailer for the DVD
---
Suppressed Histories Archives | Catalog of Presentations | Articles
Two-disc dvd (89 min. each)
video with music and commentary

For credit card orders (no PayPal account needed);
click BUY, then on Continue near "credit card.")

$30. plus shipping
(Sales tax in California)
Use the right button for your shipping destination!

BACK IN PRINT! AND READY TO SHIP~
To ship dvds inside USA, use button below:
---
Ship beyond USA (except Canada) use button below:
UK buyers! read advisory on Royal Mail surcharges!
---
Ship to Canada: Use button below:
---
Institutional rate: $300.
(plus shipping; and sales tax in California)
Use button below:
---
You can also purchase by mail order
"Mother of the gods and us all,
whose creative and lifegiving power shone in the Temazcalli, the place where she sees sacred things,
sets to right what has been deranged in human bodies, makes young and tender things growing and strong, and where she aids and cures."

—Aztec Invocation to Temazcaltoci,
Grandmother of the Sweatlodge
Max Dashu founded the Suppressed Histories Archivesin 1970. She has built a collection of over 30,000 images and 130 visual presentations on women's history, cultural heritages, and the origins of domination. (see catalog). She has presented her visual talks at grassroots venues, universities, conferences and festivals for over 40 years. (Sign up for online courses and webcasts here). See her articles and image Gallery on this site, and visit SHA on Facebook for much more: https://www.facebook.com/pages/Suppressed-Histories-Archives/333661528320.
Rock mural in the Tadrart Akakus, Libya