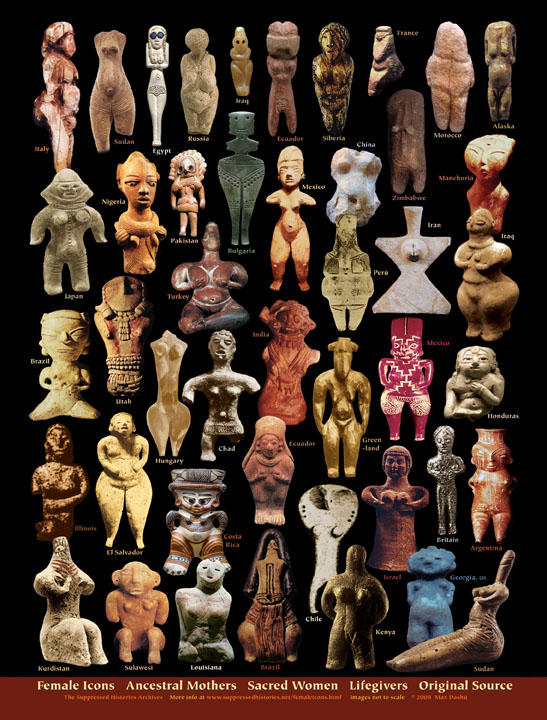 Sponsor a showing of the visual presentation
Female Icons, Ancestral Mothers
This assemblage of ancient female figurines recollects the world's primordial spiritual art in all its diversity, its deep continuities and global connections.
Shown, from left top: Italy, Sudan, Egypt, Russia, Ecuador, Siberia, France, Morocco, Alaska, Japan, Nigeria, Pakistan, Bulgaria, Mexico, China, Zimbabwe, Manchuria, Iraq, Iran, Peru, Turkey, Brazil, Utah, Hungary, Chad, India, Greenland, Mexico, Honduras, Argentina, Britain, Israel, Chile, Ecuador, Costa Rica, El Salvador, Illinois, Kurdistan, Sulawesi, Louisiana, Brazil, Kenya, Sudan.
More information about places, dates, and contexts of images in the poster.
18 x 24 inch poster: $20. each ,
TEMPORARILY SOLD OUT: REPRINTS WILL BE AVAILABLE BY MAY 7. YOU CAN STILL BUY, THEY JUST WON'T SHIP RIGHT AWAY
Choose destination:
Use button below for orders to USA (+ $4. shipping)

Use button below for all other countries
($9 shipping)
Icons of the Matrix:
2004 article by Max Dashu on global cultural patterns of female icons
The Meanings of Goddess: on interpretation, authority, and
the devaluation of female iconography
Part I: What we mean when we say "Goddess"
Part II: Goddess Heresies: the legacies of stigma in academia
Part III: Essentialism or Essence: Out from the Land of Theory