Suppressed Histories Archives Online Course 2019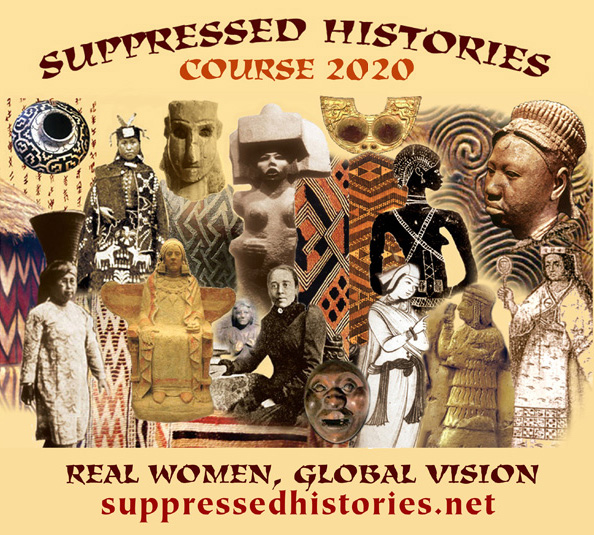 This online course offers you images, readings, and discussions on the Veleda listserv, along with monthly visual livecasts (via zoom). You'll receive emails with thoroughly cross-cultural images, readings, and discussions on wisewomen, shamans and priestesses; female icons / ancient figurines / goddesses; matricultural societies; and analysis of systems of domination. I also post links to articles and videos as well. There are no requirements, no assignnments, and no grades. The course is designed to participate at your own pace, schedule, and inclination.

This year's visual livecasts begin with a new series on Patriarchies, where we look at global patterns of colonizing women's bodies and psyches. In April the Prophetic Women show will be ready, and later in the year we'll feature another new show called Dangerous Women: They Fight Back. In-depth visual talks will also be offered on specific regions; subscribers vote for whether they'd like to see women's history in the Sahara, Iran, China, Brazil, Italy, or Northeast America. Or for global-spectrum shows like Female Icons (maybe you've seen the poster?) or The Goddess Veiled.
Readings will include advance excerpts from my new book Pythias, Melissae, and Pharmakides (out later this year). Live discussions on special topics will continue (via zoom), with occasional guest speakers (the last time, we heard from the one and only Luisah Teish).

You can subscribe any time in the year. Special rate for subs of three months and over
(after which you can unsubscribe). Choose the top button for this option.
Or you have the option of subscribing one month at a time (choose the lower button).
Or you can subscribe by check or money order (look below for how to do that).
---
To subscribe by check or money order (no cash!): Make check out to Max Dashu,
and mail to Max Dashu, PO Box 5377, Richmond CA 94805.
For the discount rate of $25, you must subscribe for at least three months, though it's fine to send payments monthly. Otherwise use the monthly rate of $31.
This course funds and sustains my research in
global women's history. Thanks for your support!
Max Dashu, founder, Suppressed Histories Archives (founded 1970)
Return to Suppressed Histories home